General Details
Technical Info
Design Options and Accessories
Dimensions
Documents
General Details
Axis TM82 Drum Motor
The Axis TM82 Drum motor is a powerful and reliable unit which is ultra compact and available for driving conveyor belts only 200mm wide. This makes is suitable for a wide range of unit handling applications where space saving is critical for light duty loads. Available in full stainless steel design and IP67 protection the TM82 is an excellent choice for meat, poultry and dairy and other hygienic applications.
General Features
Diameter 82mm
High duty steel helical gearbox
Standard lengths from 200mm
Asynchronous three phase or single phase motors
Insulation class F
IP66 ingress protection
Mild steel/aluminium or stainless steel construction
Crowned drum shell for belt tracking.
Permanently lubricated with synthetic oil
The Ultra Compact Drum Motor
The Axis TM82 Drum Motor is a powerful, small conveyor drum which is available in a minimum length of 200mm. It is ideal for driving narrow belts in applications with little space
Helical Gear System
The helical gearbox design of the Axis TM82 gives high efficiency and quiet running.
Stainless Steel Design
The Axis TM82 can be supplied in full stainless steel construction with IP66 ingress protection and NSF lubricant.  This makes the TM82 ideally suited for food industry and hygiene critical applications where high pressure cleaning is required.
Technical Info
Axis TM82 0.018Kw 8 Pole Specifications
| Power [kW] | Belt Speed [m/s] | Belt Pull [N] | Torque [Nm] | Length L min |
| --- | --- | --- | --- | --- |
| 0.018 | 0.03 | 537 | 22,0 | 250 |
| 0.018 | 0.05 | 375 | 15,0 | 250 |
| 0.018 | 0.06 | 305 | 12,0 | 250 |
| 0.018 | 0.09 | 209 | 9,0 | 250 |
| 0.018 | 0.12 | 146 | 6,0 | 250 |
| 0.018 | 0.15 | 119 | 5,0 | 250 |
Axis TM82 0.04Kw 4 Pole Specifications
| Power [kW] | Belt Speed [m/s] | Belt Pull [N] | Torque [Nm] | Length L min |
| --- | --- | --- | --- | --- |
| 0.04 | 0.08 | 482 | 20,0 | 200 |
| 0.04 | 0.10 | 419 | 17,0 | 200 |
| 0.04 | 0.14 | 292 | 12,0 | 200 |
| 0.04 | 0.17 | 238 | 10,0 | 200 |
| 0.04 | 0.25 | 163 | 7,0 | 200 |
| 0.04 | 0.35 | 114 | 5,0 | 200 |
| 0.04 | 0.43 | 93 | 4,0 | 200 |
Axis TM82 0.07Kw 2 Pole Specifications
| Power [kW] | Belt Speed [m/s] | Belt Pull [N] | Torque [Nm] | Length L min |
| --- | --- | --- | --- | --- |
| 0.07 | 0.18 | 384 | 16,0 | 200 |
| 0.07 | 0.21 | 334 | 14,0 | 200 |
| 0.07 | 0.30 | 233 | 9,0 | 200 |
| 0.07 | 0.37 | 190 | 8,0 | 200 |
| 0.07 | 0.54 | 130 | 5,0 | 200 |
| 0.07 | 0.77 | 91 | 4,0 | 200 |
| 0.07 | 0.95 | 74 | 3,0 | 200 |
Axis TM82 0.07Kw 4 Pole Specifications
| Power [kW] | Belt Speed [m/s] | Belt Pull [N] | Torque [Nm] | Length L min |
| --- | --- | --- | --- | --- |
| 0.07 | 0.08 | 827 | 34,0 | 250 |
| 0.07 | 0.10 | 718 | 29,0 | 250 |
| 0.07 | 0.14 | 501 | 20,0 | 250 |
| 0.07 | 0.17 | 408 | 17,0 | 250 |
| 0.07 | 0.25 | 279 | 11,0 | 200 |
| 0.07 | 0.36 | 195 | 8,0 | 250 |
| 0.07 | 0.44 | 159 | 6,0 | 250 |
Axis TM82 0.12Kw 2 Pole Specifications
| Power [kW] | Belt Speed [m/s] | Belt Pull [N] | Torque [Nm] | Length L min |
| --- | --- | --- | --- | --- |
| 0.12 | 0.19 | 647 | 26,0 | 250 |
| 0.12 | 0.21 | 562 | 23,0 | 250 |
| 0.12 | 0.31 | 392 | 16,0 | 250 |
| 0.12 | 0.38 | 319 | 13,0 | 200 |
| 0.12 | 0.55 | 218 | 9,0 | 200 |
| 0.12 | 0.79 | 152 | 6,0 | 250 |
| 0.12 | 0.97 | 124 | 5,0 | 250 |
Please Download the Datasheet for further detail
Design Options and Accessories
Standard Configuration
Crowned shell of mild steel with rust protection paint
Bearing covers made from aluminium
Shafts made of mild steel with rust protection pain
Helical gear unit with steel toothing
IP66 ingress protection
Version D straight cable gland
Options
Internal Brake
Version B  Angular cable gland
Version C right angled / straight cable gland
Version E Angular stainless cable gland
Mechanical backstop
Sprocket toothed belt disc
Sensor bearing unit (rotary encoder)
Cylindrical drumshell
Stainless steel design
Thermal overload protection
IP67 ingress protection
Vertical mounting
Food safe FDA approved lubricant
Single phase motors
Please Download the Datasheet for further detail
Dimensions
Axis TM82 Dimensions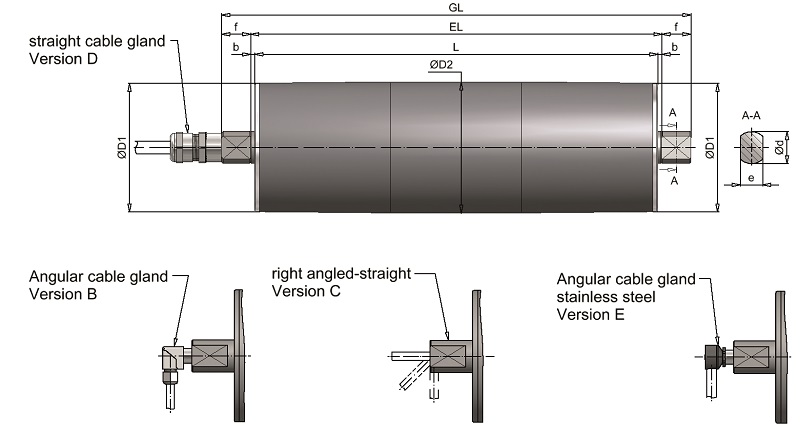 | Type | Type | Ø D1** | Ø D2** | Ød | e | f | b | EL |
| --- | --- | --- | --- | --- | --- | --- | --- | --- |
| Drum Motor | TM82.1 | 80 | 81.5 | 20 | 14 | 18 | 2,5 | L+5 |
| Guide Drum | UT82.1 | 80 | 81.5 | 20 | 14 | 18 | 2.5 | L+5 |